In today's digital age, having a strong online presence is crucial for any business or organization. A well-designed and functional website is the cornerstone of a successful online presence. However, creating an effective website requires the expertise of a professional web development company. With numerous options available, choosing the right web development company can be a daunting task.
But how do you find a software development company that will suit your needs?
While you can compile a list of potential candidates, selecting the best one for your business requires careful consideration. The web development industry is rapidly expanding as an online presence has become indispensable for almost any company nowadays. Each web development company offers a distinct range of services, driven by their unique business processes, and provides varying levels of quality at different price points. If you're looking to establish a strong online presence for your business but are unsure where to start, this post will guide you through the process. With over a decade of experience in providing custom web development services, we possess valuable insights into the crucial factors that contribute to the success of your project.
In the following sections, we will explore how you can avoid common pitfalls when selecting a web development company and outline the essential questions you should ask during the interview.
Types Of Websites Offered By Web Development Companies
Web development encompasses a wide array of practices and services that cater to diverse business and technology needs. It encompasses various aspects such as design development, website updates, blockchain development, and IoT solutions. Web design services, on the other hand, focus on the front-end aspect, dealing primarily with the visual aesthetics of a website. Web development, however, encompasses both front-end and back-end development, combining aesthetics with functionality.
There are three primary types of websites that you can choose from, depending on your business goals and budget:
Template-based Websites
Template-based websites are popular among businesses due to their quick and cost-effective development process. Platforms like WordPress offer a range of customizable templates that can be used to create a website. However, there are certain drawbacks to using templates. While they can be customized to some extent to achieve a relatively unique look, they still bear the characteristic features of the template, resulting in a similarity between websites that use the same template.
Custom-built Websites
Custom web development services involve creating a unique website with advanced functionality tailored specifically to your business needs. Every element of the site is designed and developed with your business in mind. Although creating a custom-built site may require more time initially, it can save time in the long run, as it can be easily upgraded to align with your evolving business goals. Custom-built websites are highly focused on meeting your exact requirements.
E-commerce Websites
E-commerce websites can be either template-based or custom-built. They serve as online shops equipped with a catalog, shopping cart, and secure payment gateways. Even if you have just one product to sell, an e-commerce website can be an effective solution. The primary goal of an e-commerce site is to encourage visitors to make purchases. Security is crucial for such websites, and they commonly employ SSL encryption to safeguard clients' personal data. Key features of e-commerce websites include multiple payment options, smart product search, and fast performance.
It's important to note that different web development companies may specialize in particular stages of website development. Some may provide only back-end or front-end services. However, there are full-cycle web development companies that offer comprehensive services, including development, design, project management, and quality assurance testing. While this option may be more convenient, it could also be relatively more expensive since it involves the expertise of different professionals throughout the development process.
Read more: Top 5 Vietnam Ecommerce App Development Company 2023
Tips For Choosing A Web Development Company
Determine Your Website's Requirements
Clearly outline the features and number of pages you want for your website. Consider the type of website you need and ensure it aligns with your business goals. Be cautious not to overload your website with too many features, which can lead to a negative user experience.
Check Their Digital Presence
Investigate the company's website, mobile version, and social media profiles. Look for evidence of the cutting-edge solutions they promise to offer. A lack of implementation of such solutions on their own site may raise questions about their expertise.
Review Their Portfolio
Assess their portfolio of past projects and evaluate the performance and user experience of the websites they have developed. Lack of real examples or poorly performing sites can reduce trust and reliability.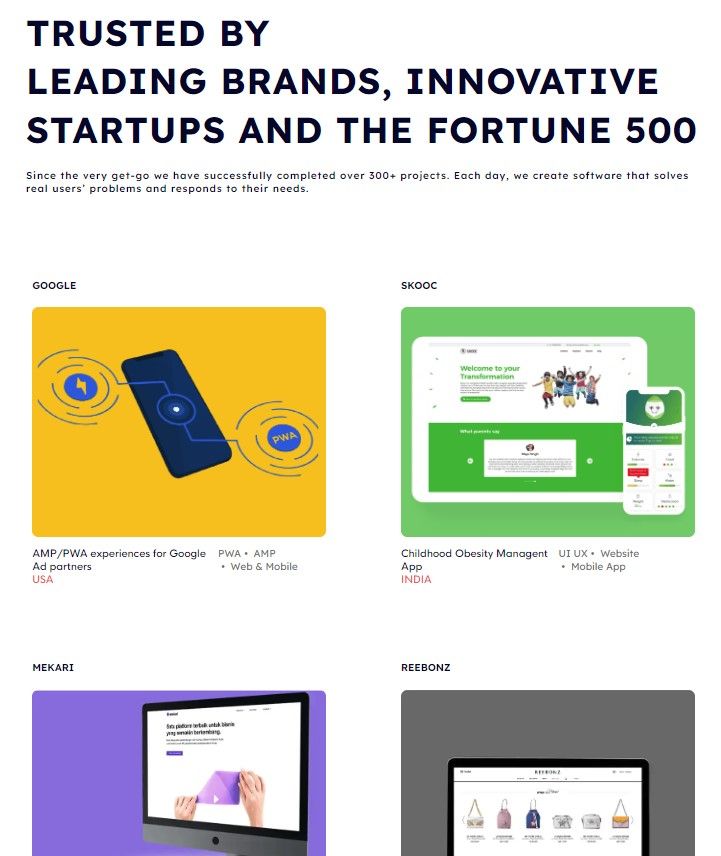 Read Client Testimonials And Reviews
Seek out client testimonials and reviews on platforms like Clutch to gain insights into the experiences of others who have worked with the company. Look for reviews specific to projects similar to yours and consider reaching out to previous clients directly for further information.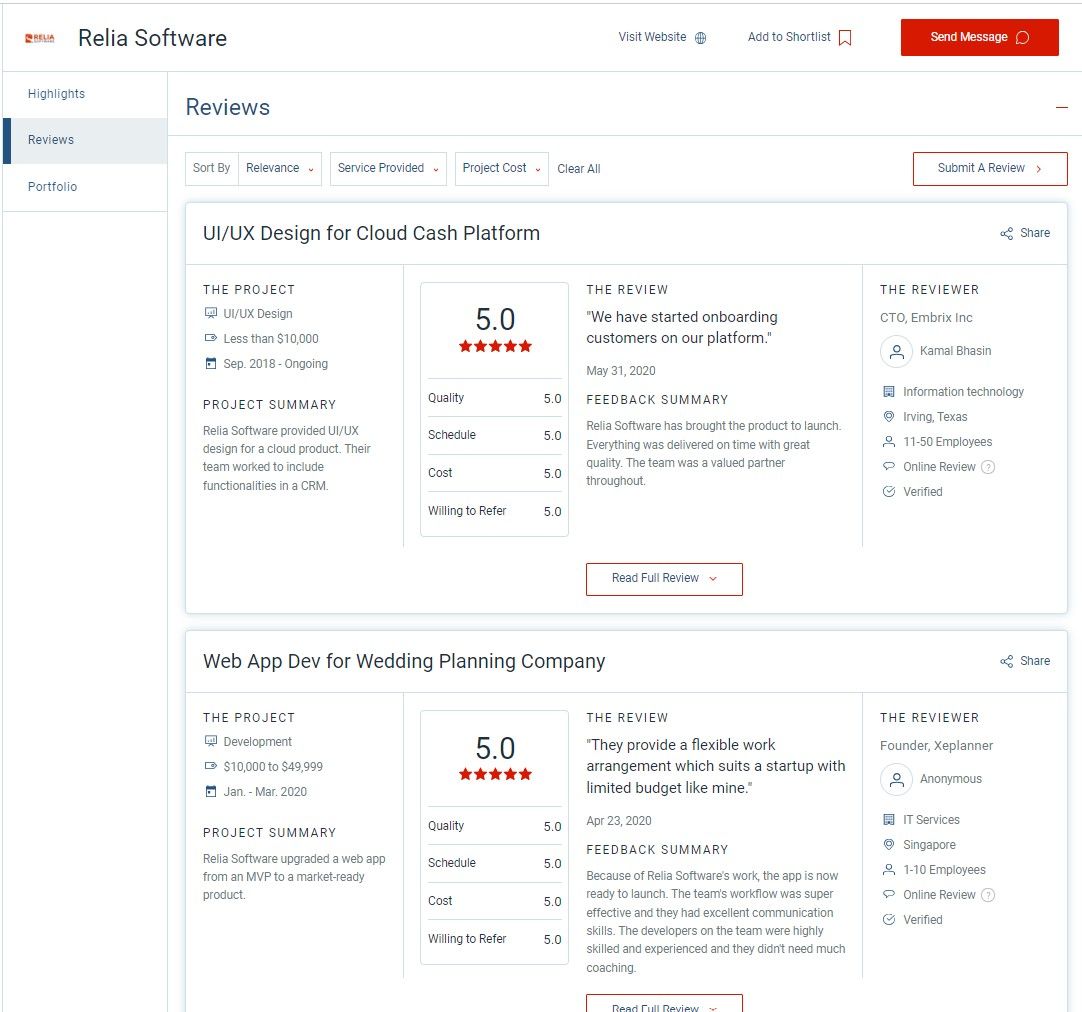 Test Their Responsiveness
Contact the company and gauge their response time, level of politeness, and interest in your business. A responsive and genuinely interested company is more likely to provide excellent customer service during the project.
Seek References From Previous Clients
Request references from the company and speak with past or current clients to gather firsthand perspectives on their services, efficiency, and overall experience. This will give you valuable insights into their work ethic and project management style.
Establish A Clear Budget
Before starting the project, agree on a budget with the web development company to avoid misunderstandings and unexpected expenses. Open and honest communication about financial constraints is essential to ensure both parties are on the same page.
Verify Technical Expertise
Ensure that the web development team possesses the necessary technical skills and stays up-to-date with industry trends and relevant technologies. Look for past work and testimonials to assess their capabilities and verify their track record.
Inquire About Ongoing Support
Check if the web development company offers ongoing maintenance and support for your website. Websites require regular updates and support, so having a reliable partner for these services is crucial.
By following these tips, you can make an informed decision when choosing a web development company that best suits your business needs and goals. Avoiding common mistakes in the selection process will lead to a successful website development project.
Signs of a Great Web Development Company
A great web development company possesses several distinguishing characteristics that set it apart from the competition. When searching for a web development partner, look for the following signs to ensure you are working with a reputable and competent company:
Impressive Portfolio
A great web development company will have an extensive and diverse portfolio showcasing their past projects. Their portfolio should demonstrate a high level of creativity, technical expertise, and attention to detail.
Variety of services
Professional IT companies provide a full scope of web development services, including discovery phase, UI/UX design, quality assurance, maintenance, and support.
Positive Client Reviews and Testimonials
Happy clients are a strong indicator of a great web development company. Check online reviews and testimonials to see what previous clients have to say about their experiences working with the company.
Clear Communication
Effective communication is essential for a successful web development project. A great company will listen to your ideas, provide valuable insights, and maintain transparent and open lines of communication throughout the development process.
Understanding of Business Objectives
A reliable web development company will take the time to understand your business goals and tailor their solutions to meet those objectives. They should offer personalized recommendations and strategies to enhance your online presence.
Expertise in Multiple Technologies
A great web development company is well-versed in a variety of programming languages, frameworks, and platforms. They should be adaptable and capable of choosing the most suitable technology stack for your project.
User-Centric Approach
User experience (UX) is crucial for the success of a website. A great web development company prioritizes creating intuitive and user-friendly interfaces that enhance the overall user experience.
Emphasis on Security
Website security is of utmost importance. A reputable web development company will implement robust security measures and stay updated with the latest security practices to protect your website and users' data.
Timely Project Delivery
Punctuality is a sign of professionalism. A great web development company will set realistic deadlines and deliver projects on time without compromising on quality.
Scalability and Future Support
A reliable web development company plans for the future and ensures that the website can easily scale as your business grows. They should also offer post-development support and maintenance to keep the website running smoothly.
Transparent Pricing and Contracts
A great web development company provides transparent and detailed pricing, with no hidden costs. They should present a clear contract outlining the project scope, timelines, deliverables, and any other terms and conditions.
Innovative and Creative Solutions
Look for a company that thinks outside the box and offers innovative solutions that align with current trends and user expectations.
Proactive Problem-Solving
Challenges are inevitable during web development projects. A great company proactively addresses issues, communicates potential roadblocks, and proposes effective solutions.
Great Company's Website
You can learn more about the quality standards of the web development company by checking their overall digital presence. For that, analyze their social media profile, website, and content.
Important Considerations Before Starting Your Project
Define Your Primary Goals
Begin by clearly understanding the goals and objectives of your project. Develop an overall concept of what you want to achieve and identify potential milestones that need to be reached during development. This foundational understanding will help when discussing timelines and expectations with the development team. Additionally, consider any specific resources, such as software or hardware tools, that might be required during the development process.
Set Your Budget Range
Have a clear budget in mind to ensure everyone involved is aware of the available resources and the financial limitations for different aspects of the project. Some teams may prefer a strict budget based on cost estimates, while others may opt for more flexibility to accommodate unforeseen complications. A well-defined budget helps in transparent communication and avoids misunderstandings over financial matters later in the project.
Determine Technical Requirements
Understand the technical aspects of the project, including the necessary programming languages, frameworks, or other technologies required for its successful implementation. Knowing about existing systems or processes that require integration with new technology can provide valuable insights for the development team and ensure a smoother project execution from the start.
Articulate Design Goals
Clearly communicate your website's desired look and feel before the project begins. Provide designers with mockups or prototypes that illustrate your vision for the end product. This ensures that all stakeholders have a shared understanding of the design goals, and developers can accurately implement the user interface elements and features as envisioned.
By addressing these crucial points before engaging with a development team, you can lay a solid foundation for your project, align expectations among all parties involved, and increase the chances of a successful and satisfying outcome.
Key Questions To Ask A Web Development Company Before Starting Your Project
Do you have web development case studies? Inquire about the company's past projects and ask for case studies that showcase the projects they have developed. These case studies should provide insights into their capabilities, expertise, and the development process they follow.
What are the stages of your website development process?
Understand the typical stages of their web development process, including analysis and research, prototyping, design development, coding, and testing. Seek clarification on your involvement during these stages and inquire about the specific point of contact you will have throughout the process.
How long does each stage last?
Ask about the estimated duration of each development stage and inquire about their policies for handling any potential delays. Ensure their time estimation methods are transparent, and understand how the cost is calculated based on the proposed time frame.
What is my role in the development process?
Clarify your role as a client during the development process. A reputable web development company should keep you involved and informed throughout the entire project. They should provide mockups and wireframes to ensure they align with your expectations and keep you engaged in decision-making processes.
Can you provide advice and consulting assistance for my business goals?
Discuss your business goals with the development company and assess how well they understand and comprehend your objectives. A reliable web development company should be able to offer valuable insights and consulting assistance, both on technical and non-technical aspects of development.
Do you offer a review and evaluation of my existing website?
If you already have a website and want improvements or a migration to a new one, inquire if the development company will review, analyze, and evaluate your current site's strengths and weaknesses. This consideration will help inform the design and development process for the new website.
By asking these essential questions, you can gain a better understanding of the web development company's approach, expertise, and ability to meet your specific needs, ultimately ensuring a successful and fruitful collaboration.
In-house or Outsourcing Web Development Company
When deciding between hiring an in-house or outsourcing web development company, it's essential to carefully consider the distinct advantages and drawbacks associated with each option.
Hiring a local web development company offers several key benefits. Direct communication with a local vendor facilitates faster project turnarounds as there are fewer communication hurdles. The development process can be closely monitored, leading to better project management. Local companies also have a better understanding of the local culture and business environment, potentially leading to more relevant and tailored solutions. Additionally, working with a local company minimizes the risks of language barriers and cultural miscommunications.
On the other hand, outsourcing web development services can bring numerous advantages. The primary benefit is cost savings since outsourcing companies often provide more affordable services compared to hiring an in-house team or local vendor. Outsourcing also allows access to a global talent pool, enabling organizations to tap into unique skillsets and expertise not readily available locally. The flexibility of remote work can lead to more accommodating project timelines, unaffected by physical distance.
Ultimately, the decision between in-house and outsourcing web development should be based on the specific objectives and criteria of the organization. Budget constraints, desired turnaround times, and the need for specialized skills should all be taken into account. Both options can be effective solutions depending on the organization's needs and available resources. Weighing the pros and cons of each approach will help organizations make the best choice to meet their web development requirements.
Why Choose Relia Software as Your Web Development Partner?
At Relia Software, we are committed to making web development outsourcing a trouble-free, streamlined, and mutually beneficial experience. Our mission is to be a reliable technology partner for startups and established companies across diverse industries. Whether you require web development services for any industries such as education, healthcare, fintech, travel, e-commerce,etc., our specialists possess a deep understanding of the unique nuances each industry presents.
With a proven track record, streamlined processes, and vast tech expertise, we have successfully delivered exceptional products to clients from the USA, Canada, Australia, India, UK, and Europe. Our team of skilled experts includes business analysts, project managers, frontend and backend developers, designers, and QA specialists. From the inception of your project, we are fully involved and dedicated to delivering outstanding results.
At Relia Software, we take pride in our list of awards, glowing client reviews, and the invaluable experience gained from accomplished projects. Choosing us as your web development partner guarantees high performance, top-notch quality, and unwavering reliability. Partner with us today and let's bring your digital vision to life!
Conclusion
Selecting the right web development company is vital for a successful product launch. To make an informed decision, it's essential to ask the right questions, thoroughly assess the answers, and pay attention to critical factors when evaluating various web design and development companies.
To ensure you choose the most suitable technological partner for your project, consider their experience, portfolio, cultural alignment, range of services, and developer qualifications. This article aims to provide clarity on the process of choosing a web development company.
We invite you to explore how our expertise can contribute to your project's success. Contact our team of experts to discuss the details of our collaboration and how we can assist you in achieving your digital goals. We look forward to the opportunity to work together!
web development

Web application Development

outsourcing