React Native is a well-liked tool for creating apps on the web and mobile devices. Businesses of all sizes are using it to make strong, dependable, and expandable solutions that can match what their customers want. As more people want React Native app creation, there's a bigger need for people who know how to work with it.
Because there are lots of companies that make React Native apps, it can be hard for business owners to pick the right one. To help you choose the best fit for your project, we've put together a list of the 5 best React Native app development companies.
Experts who know a lot about React Native have carefully looked into and thought about each company on our list. Now, let's go through each one and learn about them.
The Rising Need For React Native App Development Firms
As the world becomes more focused on mobile devices, the need for great mobile apps is growing. Businesses, new companies, and people starting their own businesses are understanding how important it is to have a strong presence in the mobile app industry to stay competitive. Because of this bigger demand, there's now more need for expert firms that make React Native apps.
React Native has become a strong technology that lets developers quickly make mobile apps that work on both iOS and Android. This is possible because it uses the same code for both platforms, which is a big advantage for groups that want to save time and money. This is why the need for React Native developers is going up.
Besides using the same code, React Native has other benefits like faster development times, better performance, and lots of libraries and tools available. Because of all these good things, the demand for professional companies that make React Native apps is getting even higher. This is because businesses want to take advantage of what this technology can do.
Core Criteria to Evaluate and Select the React Native App Development Companies
When evaluating and selecting React Native app development companies, it is important to conduct a detailed analysis based on the following criteria:
1. Expertise
When selecting the finest React Native app development enterprises, expertise is a pivotal factor that can significantly influence decision-making. We meticulously evaluated the adeptness of each company in working with React Native and the depth of their knowledge within this framework.
The chosen firms in our selection possess an in-depth comprehension of React Native's underlying architecture, fundamental principles, and optimal practices. Their accomplished development teams showcase a profound mastery of harnessing React Native's potential to craft exceptional mobile applications.
These establishments have successfully executed numerous React Native projects, underscoring their proficiency in creating scalable and high-performing applications. Their extensive experience encompasses seamless integration of native device functionalities, performance enhancement, and ensuring a uniform user experience.
Moreover, the handpicked companies continually stay abreast of the latest advancements within the React Native landscape. They remain attuned to new versions, libraries, and tools, enabling them to leverage the framework's capabilities fully. This empowers them to amalgamate cutting-edge features and furnish clients with unparalleled solutions.
With considerable proficiency in React Native app development, these enterprises are well-equipped to tackle intricate projects, surmount challenges, and deliver effective resolutions. Their prowess enables them to translate precise client requirements into functional and visually captivating mobile apps.
2. Portfolio
The portfolio of a React Native app development company provides a glimpse into their skills and creativity. We meticulously examined the portfolios of the top five entities to gain insight into the remarkable projects they have executed.
These enterprises boast an impressive array of React Native applications within their portfolios, underscoring their versatility and capacity to cater to a broad spectrum of industries and niches. They have adeptly designed apps tailored to the distinct requirements of diverse sectors, ranging from e-commerce and healthcare to education and entertainment.
Furthermore, many of these companies have prior experience seamlessly integrating intricate functionalities and third-party APIs into their applications. They have crafted apps featuring real-time messaging, social media integration, secure payment gateways, and precise geolocation services.
The success stories encapsulated within their portfolios illustrate their prowess in delivering high-calibre apps punctually and within budget constraints. Their collaborative efforts extend to startups, small enterprises, and large corporations, amassing invaluable industry insights and wisdom throughout their journey.
3. Client Testimonials
What better way to assess the prowess of a React Native app development company than by directly listening to their clients? We delved into the feedback provided by clients to ascertain the level of contentment and the quality of services rendered by the top five firms.
These organizations garnered accolades from clients for their professionalism, effective communication, and ability to yield outstanding outcomes. The reviews overwhelmingly echoed positivity, highlighting how clients were astounded by these companies' dedication to comprehending their needs and transforming them into fully functional applications.
Transparent and timely communication emerged as a pivotal factor in these exceptional client experiences. Clients expressed satisfaction with the companies' proactive communication, which kept them well-informed about project statuses. The companies attentively absorbed feedback and implemented necessary modifications to meet client expectations.
A recurrent theme in the testimonials was the companies' unwavering commitment to meeting project deadlines. Clients underscored the significance of on-schedule app delivery, enabling them to launch products promptly. Their clients lauded the dependability and timeliness exhibited by the companies.
Clients also lauded the remarkable technical prowess demonstrated by these enterprises. They commended the apps for their robustness and performance, emphasizing the seamless user experiences and the absence of significant issues or concerns.
4. Industry Reputation
In your decision-making process, evaluating the repute of a React Native app development enterprise holds paramount importance. We meticulously scrutinized the industry standing of the top five firms to ascertain their recognition and respect within the app development domain.
These establishments have established a robust reputation for competence, innovation, and service excellence. They are renowned for producing top-tier React Native applications that meet and surpass client expectations.
Their active involvement in industry events, seminars, and workshops bolsters their standing. They actively contribute to the app development community by sharing their insights and experiences, manifesting their commitment to advancing React Native as a framework.
Furthermore, these firms have garnered notable awards and acclaim for their exceptional work. They have been prominently featured in major publications, garnered awards, and earned high praise from industry authorities and influencers.
Their reputation transcends technical prowess, encompassing professionalism, integrity, and ethical business practices. These entities prioritize client satisfaction and go the extra mile to fulfil their client's needs.
Read more: How to Choose the Best ReactJS Development Company?
Top 5 React Native App Development Companies in 2023
This section is poised to unveil the finest React Native app development enterprises of 2023. After thorough research and analysis, we have pinpointed the top 5 organizations that stand out in crafting exceptional React Native applications.
1. Relia Software
At Relia Software, we pride ourselves on harnessing the power of React Native to create dynamic and cutting-edge mobile applications. Our team of skilled developers brings a wealth of experience and expertise, ensuring that your app meets and exceeds industry standards. With a commitment to seamless user experiences and robust performance, we transform your ideas into fully-fledged, feature-rich applications that captivate and engage your audience. Discover possibilities with Relia Software's React Native App Development service.

Core services
Other Details
Employees: 50-249
Avg Hourly Rate: < $25 / hr
Locations: USA, Canada, Viet Nam
2. Toobler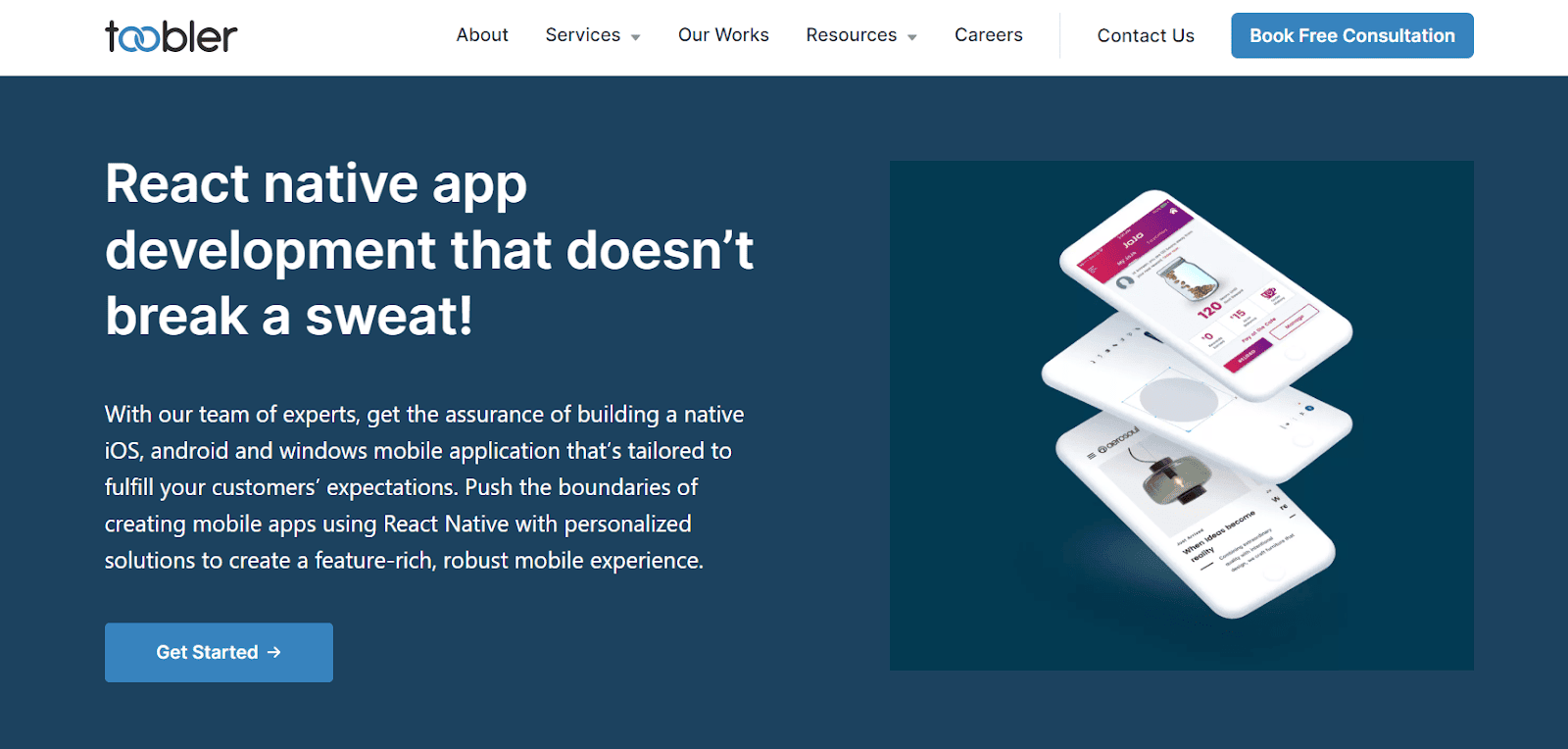 Toobler stands as a prominent contender among the leading React Native app development enterprises present within the market. The company's inception dates back to 2008. Although Toobler embarked on its journey as a software design and web application development entity, its evolution has led to a dedicated team of developers adept at addressing diverse needs.
Beyond its comprehensive range of services encompassing web and mobile app development, Toobler extends its prowess to encompass IoT and AI-associated software solutions, as well as the creation of Digital Twins. With a well-structured framework and adept processes, the company has seamlessly integrated cutting-edge technologies to foster the construction of mobile solutions characterized by high quality and scalability. A fusion of expertise and years of experience is the cornerstone of Toobler's commitment to delivering React Native app development of the utmost calibre, coupled with punctual project deliveries.
Core services
UI/UX design

Mobile App Development

Web App Development

IoT App Development

Onsite support

DevOps support

Digital Twins
Other Details
Employees: 50 - 249

Avg Hourly Rate: $29-49 per hour

Locations: London, Canada, USA, and India
3. Cheesecake Labs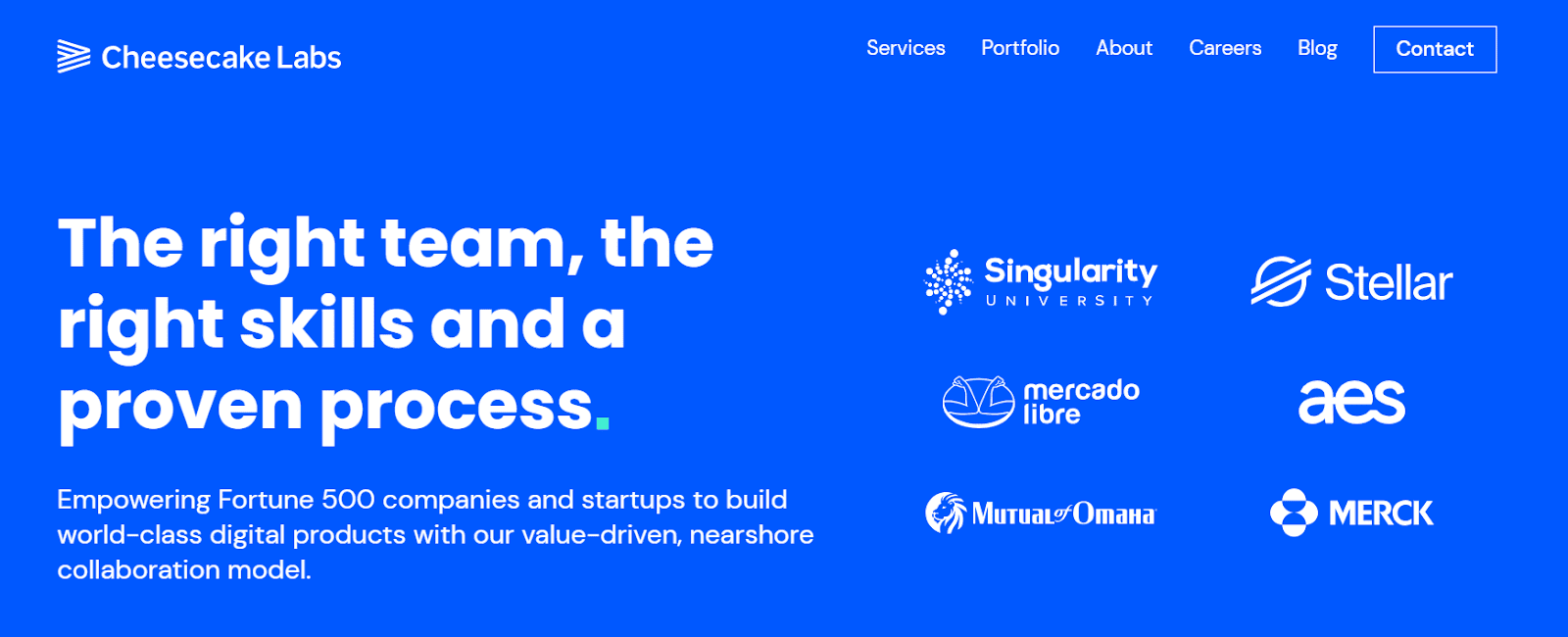 Cheesecake Labs is an IT enterprise specializing in designing and developing web and mobile applications. Established in 2013, the company operates with a central goal of aiding forward-thinking businesses in amplifying their positive influence through technology while empowering individuals. Their team comprises an amalgamation of designers, engineers, project managers, and tech aficionados who collaboratively adhere to a set of shared values. This cohesive team is dedicated to assisting their clients in resolving tangible, real-world challenges through innovative solutions.
Core services
Strategy and Product Definition

UI/UX Design

Mobile App Development

Web Development

Next-gen Technology
Other Details
Employees: 50-249
Avg Hourly Rate: $50-99 per hour
Locations: San Francisco, Florianopolis
4. Groovy Technolabs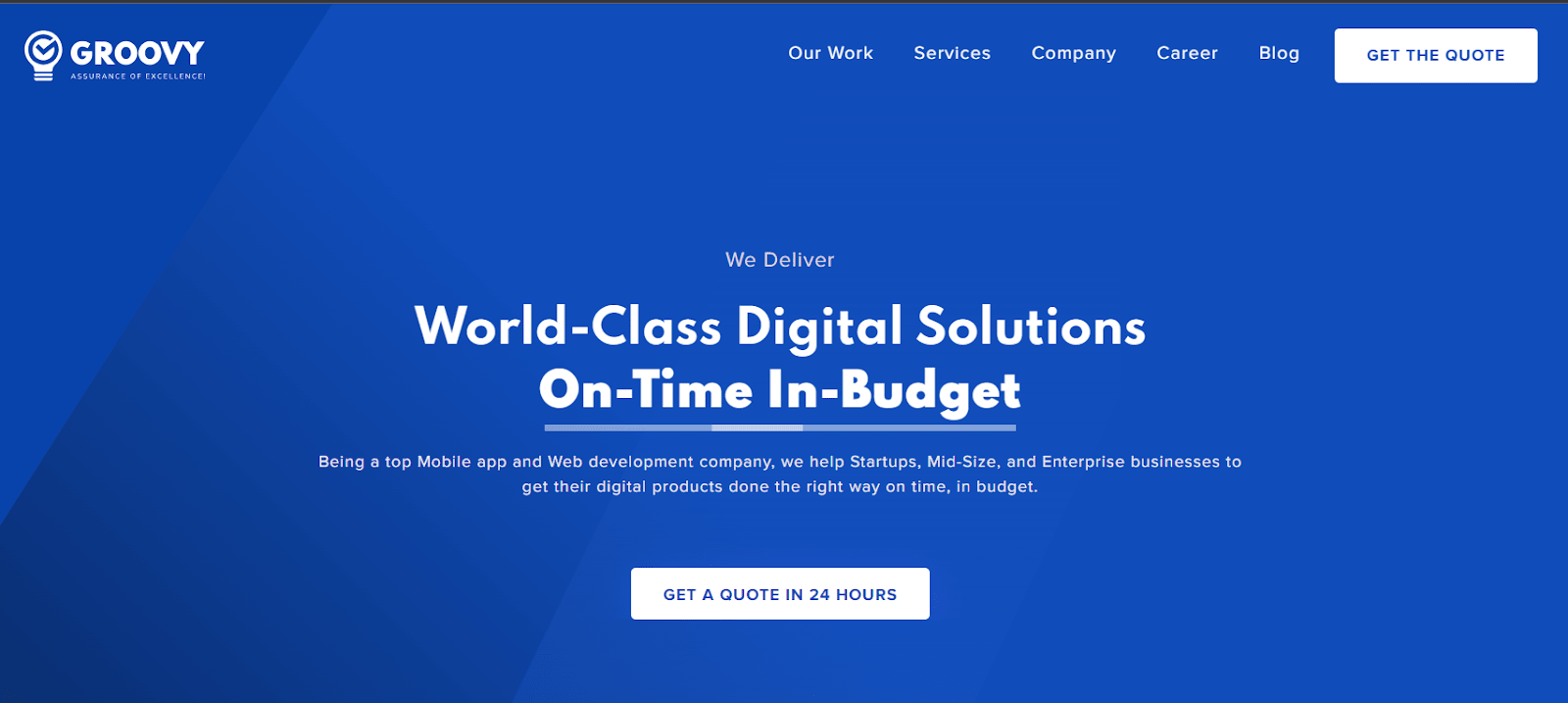 Established in 2015, Groovy Technolabs has matured into a comprehensive IT services establishment under the visionary leadership of its proficient and committed founders. Guided by their unwavering direction, the company has flourished into a stalwart in the industry. Groovy's designers and developers meticulously adhere to a streamlined development process. This meticulous approach bridges your mobile app concept to a functional, trustworthy, user-centric, and secure prototype for your business.
Core services
Mobile app development

Web development

SaaS development

Browser extension development

Desktop application development
Other Details
Employees: 50-249
Avg Hourly Rate: <$25 per hour
Locations: India, UK, Australia
5. Geniusee

Geniusee is another React Native app development firm committed to achieving its clients' triumphs. Established in 2016 in Kyiv, Ukraine, the company boasts the collective expertise of over 150 skilled professionals who have undertaken remarkable ventures spanning diverse sectors. Notably, Geniusee holds the distinction of being a certified AWS consulting partner, further enhancing its credentials. The enterprise designs and develops cutting-edge products and services and extends its advisory and support services to a diverse array of clients and collaborators.
Core services
Frontend development

Backend development

Mobile development

Business Analysis

DevOps Engineering

UI/UX Design
Other Details
Employees: 50-249
Avg Hourly Rate: $50- 99 per hour
Locations: Ukraine and Poland
Wrap-Up
To sum up, the app development companies above exhibit the capacity to deliver high-quality services. Each of these React Native app development firms possesses distinct strengths and areas for improvement. Depending on the specific attributes and requirements of your project, you have the potential to discover the perfect match to cater to your needs. Before committing, engaging in thorough discussions with each team is essential to confirm their alignment with your business objectives.
Dedicating time to research each company and initiate communication meticulously is paramount for a well-informed decision. If feasible, reaching out to their clientele to gain insights into their collaboration experiences with these companies can be invaluable.
You could begin your exploration with the foremost contender on the list, Relia Software. Feel free to connect with the experts at Relia Software to discuss your next react native project.
React Native

Mobile App Development

Mobile App Development Companies