There are more than 5.5 billion mobile phone users in the world. And that is approximately 67 percent of the world population. Another interesting number is that mobile applications constitute more than 90 percent of mobile phone usage.
Mobile applications are imperative to every business and have the potential to grow your business dramatically. After all, it will forever remain within arms' reach of your customers and prompts them to use your service.
But any mobile application wouldn't serve the purpose. Your application has to be the best.
So, how to identify and hire the right mobile app development company to build your business application?
We have put together 12 factors that should be in your checklist for hiring a mobile development company.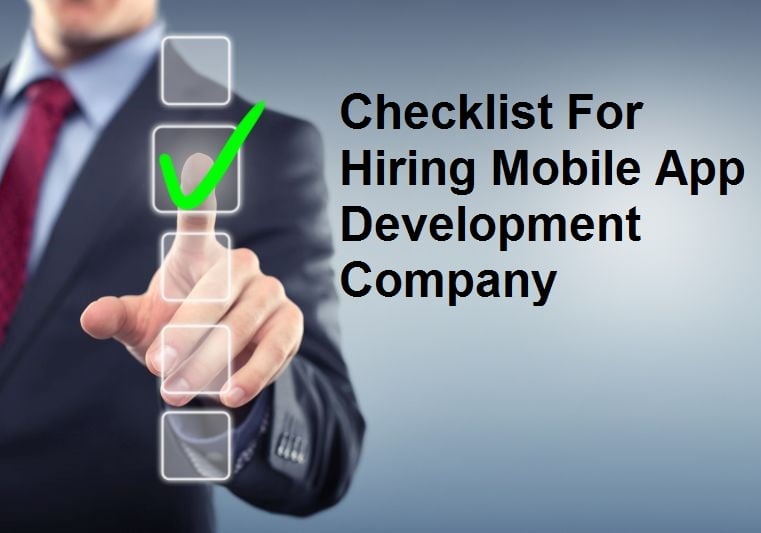 1. Portfolio of the Mobile App Development Company
A mobile app development company's portfolio is the testimony for the company's skill in building quality applications.
It gives you a complete picture of the technical prowess and the expertise of the company. It showcases all the applications they have developed to allow you to choose if you want such a company to build your mobile applications.
Portfolio also reveals the developers' capabilities and the industries the company has built applications for.
For example, let's say your company operates in the eCommerce industry. The first mobile application development company has built eCommerce applications that are used by many people. The second app development has worked on many automotive applications and is deployed in various types of cars.
Although both the companies are good, the first company understands the people your business caters to and what they expect in an application.
2. Quality More Than the Budget
No, the blog does not encourage you to ignore the budget completely.
As a decision-maker, planning finances is one of the key factors that decide the course of your company. But quality mobile app development often costs higher than mediocre mobile apps.
You can't settle for a third-rate application just for the sake of the budget. It eliminates the purpose, if not hinder your growth completely.
What if the price is double or triple of what you can afford?
No, don't go for that either.
What we are suggesting is that you shouldn't be too rigid on the budget you can spend. Don't say no to hire the best mobile app development company for a quote a little more than your budget. Be flexible.
3. Technology-Driven Mobile App Development
Although new technologies are not making headlines every day, they are emerging at a much higher pace. It is only natural to leverage emerging technologies to your business advancements. Here are some of the proven technologies the mobile application development company you are hiring must serve.
a. AI Driven Mobile App Development
Artificial Intelligence is already helping a lot of businesses in their endeavors. The AI algorithm learns the users' patterns that are indifferent to the normal eye and delivers an optimized experience for a better conversion ratio.
Conversational User Interface, with its robust conversation modules, engages the users effectively and customizes the application for a better experience. It also eliminates the initial hesitation every user encounters when they sign in to the application for the first time. Further, conversational AI can understand your customers' queries and provide effective solutions.
AI has much more to offer to a mobile application: Computer Vision, Natural Language Processing, Sentimental Analysis, Automated Reasoning, and Customized Marketing, among features.
Even if you are unsure of what, how, and where you can incorporate AI to provide a better service, hiring the right AI Mobile App Development Company will enable you the assistance needed to choose the optimal AI development direction.
b. Blockchain Mobile App development
Blockchain is relatively new to the technological world, but the security it offers is matched by no other technology. But not many companies could have developed Blockchain applications as it is
If they have developed Blockchain Apps, even better. If not, analyze if the company understands everything about Blockchain.
The Blockchain App Development Company you hire must have a complete understanding of ICOs, STOs, Decentralized App Development, Exchange Development, Wallet Development, and many other concepts of Blockchain.
Blockchain apps' trademark features are absolute data security and integrity, low overhead charges, high transaction speed, and transparency.
c. Data-driven Mobile App Development
Data-driven mobile app development is ideal for enterprises that expect their applications to generate volumes of data. Data-driven mobile applications, apart from helping the businesses to grow exponentially, they crunch the numbers and equip enterprises with insights on their services.
You can easily understand who uses your application, where most of their time, and where they don't spend enough time, among other details. This information is crucial to shape your business strategies and to make changes to improve customer engagement.
d. Cloud Mobile App development
Hiring a Cloud Mobile App Development Company will empower your business with a working application quicker and at a low cost.
Cloud Mobile Apps are much similar to web apps but with specific UI optimized for mobile phones. And it will be connected to a database in cloud making the store and fetch cycle seamless.
Some of the advantages of Cloud Mobile App Development is that they are not platform-specific, available all the time, highly scalable, low maintenance cost, easy recovery of data, and applications need not be installed in devices as they can be used on the go.
e. IoT Mobile App Development
IoT mobile apps and devices work because they are being fed with streams of information from one or many devices connected to the internet. Sensors are fine examples of devices that send data constantly to the internet.
IoT apps are typically used to make decisions control the systems reading the data in the mobile apps.
Hire the IoT Mobile App Development Company that completely understands the requirements of IoT applications needed to be effective.
4. Platforms the Mobile App Development Company Serves
Your target audience is divided by a lot of factors: age, ethnicity, geography, and even by habits, but almost never by the devices, they use.
They are most likely to use both Android and iOS devices unless either of the devices is banned in their respective countries. The other scenario — when you have to hire an android app development company or iOS app development company respectively — is if your business is about an application that improves the functionality of just one of the platforms.
Most of the time, your business ought to have applications both for Android and iOS devices. You can also choose to build one application for both Android and iOS devices, hiring hybrid and cross-platform app development companies based on your requirement:
When to hire native App Development Companies
Android and iOS app development companies are also hired for a number of reasons. They are more secure, highly intuitive, and have fewer bugs.
Above all, hiring a native mobile app development company is ideal if your business requires the following:
1. Unique and Specific Features
Native app development allows developers to create unique and specific features for your applications without too many hassles. Your application is also built to take advantage of the platform's uniqueness to the fullest, providing a better UX and responsivity.
2. Incredible Performance
Although the cost of hiring a native app development company is higher, native apps offer superior performance. They completely fit into the structure of the platforms and the users love them for the seamless experience.
When to Hire Cross-Platform App Development Companies
Hiring a cross-platform app development company can save up to 70 percent of your budget for two applications. But cross-platform app development is always preferred if your business requires the following:
1. Simple Applications
Cross-platform application development is the best option if you need a simple application. Because the same codes are to be used in all the platforms, cross-platform apps with complex functionalities may fail to provide a robust user experience.
2. Speedy Development and Deployment
Simple cross-platform applications can be developed comparatively faster and deployed without any hassles. This makes it the best option to build B2B applications where deployment timing is the crux.
Although not an everyday incident, complex cross-platform apps can glitch and lag because of the platforms' differences. But this is expected to be solved soon with upgrades in the cross-platform development frameworks.
5. Code Standards
As a business representative, you should understand and be able to talk to the software development company you are hiring about the code standards. This is also one of the musts of web and mobile app development which companies happily ignore and regret later.
Here is why you should always discuss code standards with your app development services provider.
1. Highly Efficient
A mobile application developed following the code standards right from the beginning of the development will have far fewer bugs and errors to fix.
Code standards help developers to identify the errors way early in development allowing them to rectify on the go.
This greatly increases the efficiency of the mobile application development by reducing the number of testing iterations the developers have to go through and increasing the development speed.
2. Reduces Code Complexity
A mobile app developer will not be taking care of the project end to end. If there is so much time, sure. But most of the time, a team of developers will be working on software, and every developer has his/her way of coding that is different from the others.
Suppose a mobile application development is divided into six modules, and the work is split among the team of six developers. If every developer works in his preferred way, it is going to be a nightmare for the rest of the team to understand, for it is not just one, but six different types of codes.
Following the code standards, on the other hand, will make it look like the application was built by one developer, although it was the work of a team.
3. Easy Maintenance
Maintenance doesn't follow the application right after its release. It takes time to identify faults, improvements, and changes to be made in the application.
How would it be if developers look into the codes and are bewildered by its structure? It would make maintenance extra hard and time-consuming just to understand the codes.
Following the code standards makes the codes easy to understand and paves the way for effective maintenance.
4. Increase the Stability of the Software
Mobile Applications crash for various reasons: poor exception handling, server overload, network, memory management, and many reasons. And one way to lower the application crashes is to follow the code standards as it makes the applications more stable.
5. Saves Cost in the Long run
Hiring Android, iOS, and web app development companies lose the purpose if the success is only short term.
Mobile and web application development should assist the companies throughout the term to make an impact. And long term implies increased maintenance, upgrades, and support. If these services are billed by hours taken for service completion, be ready to pay a hefty sum. Because the developers can take a lot of time just to understand the codes.
With code standards, codes are easily readable and thus costs equally less.
6. UI/UX Design Driven App Development Factor
The user experience of your application is what appeals to your customers.
You could have built the most powerful back-end and seamless database connectivity for your mobile and web applications, but is that what entices your customers?
In a way, it does. It makes the information fetch cycle almost instantaneous and executes the users' commands quicker than other applications. But these are not often noticed by your customers as they are considered to be prerequisites. They are only noticed when they are super-slow and are not working properly.
Here is Why You Should Look at User Experience Designs before Hiring a Mobile or Web App Development Company
UI/UX design is what defines if a user will come back to use your application and services again. Even if you have zero competitors in your domain, poor UX design will eventually bring down your sales.
A better UX design, however, increases your mobile application traffic exponentially. It will also reflect positively on your services and thus increase your sales.
A good interface is marked by intuitive and relevant controls, easy-to-the-eye interface, clutter-free navigation, clear shortcuts, and flexible to add features.
Retain Your Target Audience
The first step of every business is to attract customers, and the second, to retain attracted customers.
And the second phase is where UX design comes to play.
Even if you are a company with zero competitors, you don't want your customers to get repulsed whenever they open your mobile application
Hiring the best android and iOS app development company will equip you with the best UX design which your customers will look forward to using again.
Customer Engagement is one of the deciding factors for an application to become a massive hit.
Defined by the interaction between the application and customers, customer engagement is what prevents your customers from switching to your competitors.
To put it in better words, the ideal UX design will engage your customers in a way that makes using your mobile app a pleasure rather than a chore to get things done.
Stand Apart from Your Competitors
B2B, or B2C, or whoever your mobile application addresses, you shouldn't be a just-another-application delivering the same thing as your competitors.
You have to stand out from the crowd and distinguish yourself to become one of the forerunners of your industry.
Hiring a good Mobile Application Development Company implies that your application is being equipped with the nuances needed in the UI/UX design to make you stand apart from your competitors.
Privacy Measurements
Privacy is the foremost concern for mobile applications, especially in our digital age fraught with hackers preying on data.
As bad as it sounds, a lot of applications have already fallen prey to loopholes and gaps in codes leading to private data leakage. This didn't just spoil the reputation and reduce the revenue of the companies, but pushed to the brink of closure, if not shut down entirely.
As a business owner, your customers trust you with their information. Even if it is not for your reputation, you are in charge of your customer data. It is only fair to protect it irrespective of the difficulties you face.
To ensure the safety of your mobile application, hire a mobile application development company that can add extra layers of security to your application.
Not to mention, every country has its own laws to ensure their citizens' data safety. The mobile app development company you are hiring should also possess the knowledge of what is accepted universally to build your applications with the metrics.
Communication Matters
Communication ensures the right track of development. Your ideal mobile app development company would give you a detailed timeline of how they will approach the development and when you can see the first working module of your application.
Effective communication allows you to know everything that goes behind the mobile app development. Problems the teams face, where the development is at a given time, and if more time is needed to complete the project.
Mobile app development is time-consuming. Without communication comes the lack of transparency and you can't be waiting in the dark until the company completes the mobile app development.
You might require a change in the middle of development, the trend might die down, the market might change — anything can happen. But with effective communication, your mobile app development can easily overcome the difficulties.
Investigate their Dedicated Developers
Skilled mobile app developers make up the best mobile app development company. Their prowess directly reflects upon the portfolio and the success of the company.
But who is working on your application? And what is the experience of the team working on such applications?
When you choose to hire a mobile app development company, it is possible for the company to assign your project to a fresh team.
In most cases, the heads of the team verify the quality of the application, but a project built by rookies might not have followed the code standards. It might even have a lot of bugs.
And brings a necessity of a developer's skill investigation before choosing the company.
Investigate their Client References
When searching for the right mobile application development company for your android and iOS app development, you will come across a lot of companies who are yet to make a name for themselves.
If the companies are highly promising and if you can verify their skill, you can hire them for your projects. But that's not always recommended as there can be a lot of ambiguity in the project development and there is a considerable risk.
The safest and most preferred option is to hire companies with positive client references.
Client references are the testimony for the mobile app development company's dedication, skill, timely delivery, and overall quality. It also saves you the trouble of interviewing and analyzing the company's developers individually to test their skills.
Reputed companies have established structures to approach the. They have experienced teams working on various facets of app development and can complete the faster while keeping the quality high.
A lot of companies have nameless client references you cannot verify. They may be honest, but there are chances for it to be faked.
Relia software has worked with Google, Toshiba, and many other emerging companies. And likewise, hire the companies whose client references you can verify.
GoodFirms, Clutch, and AppFutura are some of the reliable platforms to check client references.
Maintenance and Service
Mobile applications don't remain evergreen requires maintenance regularly for function effectively.
You will need to release updates periodically clearing the bugs, adding more features, improving the services, and by user reviews on what they need.
When such is the case of mobile applications, hiring a software development company that remains indifferent to your requirement after deployment is not advisable.
Always hire a mobile app development company that provides maintenance and other assistance even after the final release of the application. Relia Software also provides maintenance and is always on standby to help its clients in all ways.
Industries the Service Provider is into
Not all mobile applications are the same. Every mobile application is built targeting a specific group of individuals who form an application's major user base.
While there are features that remain constant in all the applications, there are specific features tailored to the accessibility of the targeted audience.
For example, consider an education application for children and adults. The navigation of application may remain identical both for adults and children, but the UI/UX and depth of the features ought to differ to appeal to different audiences.
Likewise, every industry has a customer base that they serve. Real Estate, Retail, E-Commerce, Agriculture, Education, Construction, Instant Messaging, and every other industry has its own rules and definitions.
Hiring a mobile application development company specialized in your domain implies that they understand your customers' needs and tailor the application to address every requirement.
Wrapping Up
We have covered everything major that you should look for in a mobile application development company. If you can tick every check of the list, then you have little to worry about after hiring the company.
One thing you have to do from the client-end is to ensure that you explain your needs clearly to the company and double-check if the company has understood what you want.
Also, get regular updates on the progress and raise your concerns the very instant they arise. It will put you at ease and gives the company the right instructions on how you expect your application to perform.
Also read Forbes's article - Nine Mistakes To Avoid When Hiring An App Development Company